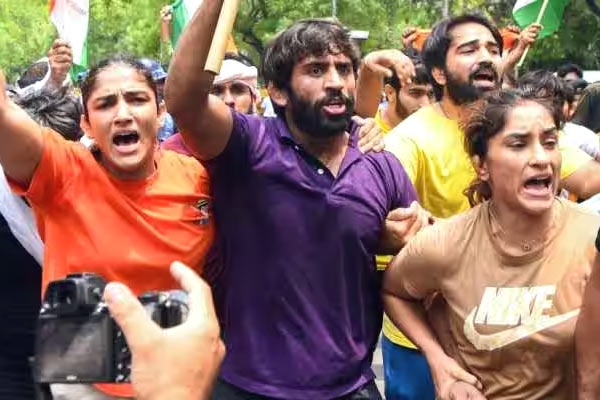 (Image source from: Zeenews.india.com)
Bajrang Punia, Sakshi Malik, Vinesh Phogat, Satyawart Kadian are World wrestling Champions, who bought glory to the country were detained by Delhi police yesterday after they tried to protest in front of the new parliament building. There was a war of words between the wrestlers and police officers at Jantar Mantar, which is just 3 km away from the new parliament building. Phogat sisters, Sakshi Malik and other wrestlers have tried to breach the barricades. They were pushed into the police buses.
Brij Bhushan Singh, BJP MP from Uttar Pradesh is alleged of sexual harassment of female wrestlers and also alleged for harassing a 16-year-old minor. Wrestlers started their protests seeking his removal. Delhi police took nearly a week to register an FIR on the MP. A case was registered under the POSCO Act and also sexual harassment case. Brij Bhushan is the backbone of the BJP in UP. Even after huge protests and FIR registration, BJP doesn't dare to touch the MP, which is a real shock.
The question is who is going to save the world champions and who is going to show the solution to the wrestlers. The wrestlers who bought glory to the country deserve respect and support, but not arrests and cases. We have to wait for more time and see how the Government of India will take action and save the wrestlers.