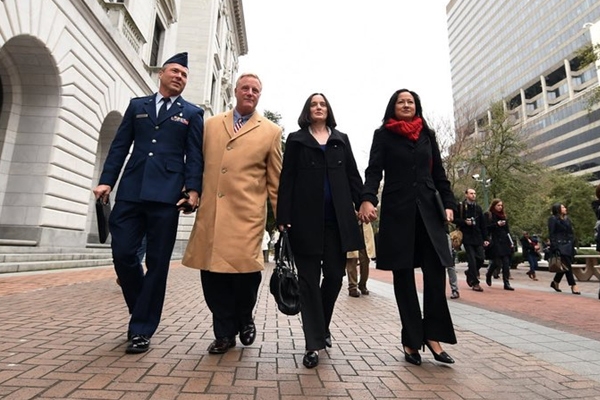 Two couples in Texas, who fought against the state's ban on same gender marriage, were awarded more than $600,000 in attorney's fee and other costs, a federal court announced this week.
Mark Phariss and husband Vic Holmes and Cleopatra DeLeon and wife Nicole Dimetman won a long legal battle to get rid of Texas' 'anti-gay marriage laws. On Tuesday (April 18th), the 5th Circuit Court of Appeals awarded their attorneys $585,470.30 in fees and $20,202.90 in other costs.
"We're thrilled," said Phariss, who married Holmes in Frisco just months after the U.S. Supreme Court declared same-sex marriage legal nationwide. "It means that our attorneys finally get compensated for all of their hard work."
Spokesperson for the Office of the Attorney General, Marc Rylander said that the Office of Attorney General Ken Paxton was "disappointed in the ruling" and considering next steps.
"It's kind of a little bit sad that it was a waste of taxpayer dollars that could have gone to other things than to keep two people who love each other from getting married," Phariss added.
The money will go to the law firm of Akin Gump Strauss Hauer and Feld, which has pledged to use the funds for the future pro bono work.
The couples won their case in a district court, but were put on hold while Texas appealed the decision to the 5th Circuit Court based in New Orleans. The court did not take any decision until June 26, 2015, when the Supreme Court issued their landmark ruling in Obergefell versus Hodges that legalized same-sex marriage.
Dimetman and DeLeon were already married in Massachusetts, but wanted Texas to recognize their union before the couple welcomed their second child.
DeLeon and Holmes are both veterans; Phariss and Dimetman are attorneys.
AMandeep