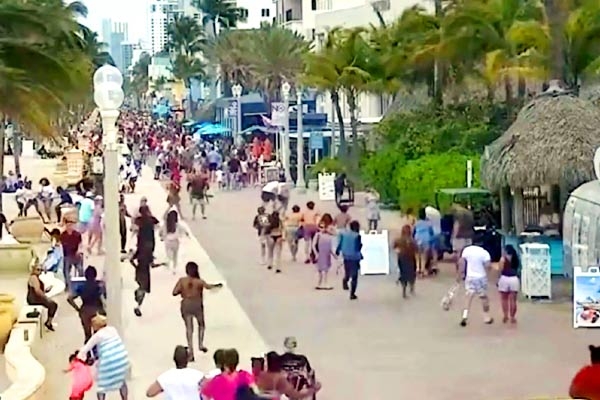 (Image source from: Nypost.com)
One more heart-wrenching incident from the USA. It is again a gunshot. This time it is at Florida Hollywood Beach. 9 injured in a mass shooting at Florida Hollywood beach on Monday afternoon, including 3 minors and 6 adults on Memorial Day. Victims were transported to Memorial Regional Hospital and Joe DiMaggio Children's Hospital. They are stable and currently undergoing treatment.
One suspect was arrested and the investigation is underway. Police have blocked the Hollywood beach area including Hollywood Beach Broadwalk until the investigation is completed. The beach was having more visitors than usual because of memorial day weekend. This beach is just 30km away from Miami. There are many officers on the site investigating the incident. As per the preliminary investigation, young men were fighting in front of the stores and suddenly they started shooting. One of the survivors from the incident said that he suddenly heard some gunshots and hid behind a tree. He then fled when the police asked the public to run from the site.
According to the Florida police department, the shooting was done between two groups, who were then escalated.