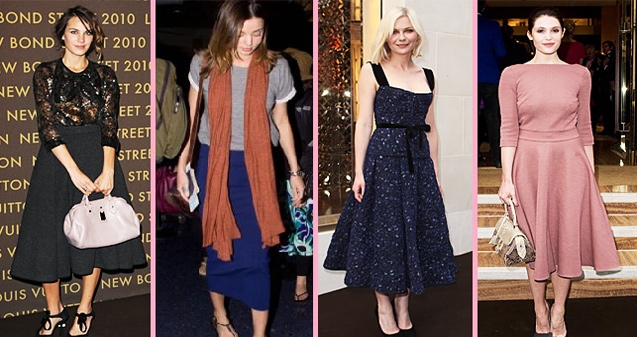 There's no stopping the rise in popularity of the midi skirt. Defined as a skirt that hits below the knee, midi skirts, including tea-length A-lines, body-hugging pencil skirts or floucy accordion styles, have infiltrated stores for spring. And judging by Fall 2012 New York Fashion Week shows from designers such as Marc Jacobs, Rodarte and Tory Burch, they're going to be here for a while.

"The 70s are big for spring and this is part of it," says Sydne Summer, a stylist and blogger in Los Angeles, speaking of the trend that also steals from 1950s bridal gowns and 1960s chic. "The longer hemlines are continuing for fall. It's more sophisticated and not in-your-face. It's a little more subtle sexy".

Finding the Right Midi
Despite their incredible popularity, midi skirts are not the easiest looks to pull off.
"Designers are doing solids and prints," Summer says, but suggests that women new to the midi trend stick with solids because they go with more things and don't add as much tension to your bottom half.
"It can be tricky to find the perfect length midi skirt right off the rack," says New York-based stylist Sarah Shirley. A midi is definitely a purchase that requires you to pay attention to those little proportions, lest you end up looking like a dumpy and frumpy schoolmarm. You should shop around and take pictures of yourself in different brands before purchasing to get the fit as close to dead-on as possible -- and expect to spring for alterations.
"I think an inch can make all the difference," Shirley says. "If you look at your leg, your outer calf is higher and your inner calf goes in and then out again. The skirt needs to cut at the thinnest part of your upper calf. If you the midi hits at the widest part of your calf, it's going to look bad. You want your skirt to hit right above where your calf bulges out."
Summer agrees with Shirley as to where the skirt should hit, but adds, "if you're shorter, make sure it hits just below the knee" because "a hemline to the calf will be too much fabric".

Where to Wear a Midi
Once the hard work is over, and you've got yourself a midi or two, they can become wardrobe staples that you can wear just about anywhere.

Midi skirts are a great trend to bring into the workplace. "It's that whole retro 'Mad Men' look," says Summer. You can modernize yours with a little cardigan -- and do it with a cooler necklace than pearls.
Yes, we're talking cardigan, but by no means should that translate to a sweater set. Shirley suggests taking the shell of the sweater set and wearing it under a nice jacket or alone to show some arm. "You just want to keep the top feminine," she says. "You want to show some skin at some point, whether it's on your wrists or your collarbone."
The midi skirt can also be a go-to piece when it comes to dating. A pencil skirt midi is perfect for a first date or to turn up the heat with a devoted flame.

Shirley says a pencil midi is tight – and guys like that – but it's also sexy because it can elongate the torso and give the illusion of a long leg line without showing all the leg.
To punch it up a bit, Summer suggests that "instead of a sweater, wear a cropped black leather jacket." She says that she often accents her own midi skirt ensembles with "a big statement necklace to balance it out" because midi skirts create "all this static on the bottom."

There's also a place for midis at formal events. Ball gowns and fitted corset tops will never go out of style on the red carpet, but there have been some recent sightings of celebrities sporting midis there as well.
While Emma Stone's black tea-length Alexander McQueen gown from the 2012 Screen Actors Guild Awards might be too formal a choice for most women's lifestyles, there are more subtle ways to bring the trend into formal occasions like weddings and banquets. Pair your midi with a sexy top and, of course, your finest accessories.

"Midi skirts at formal events make you feel glamorous and give you that old Hollywood thing," says Summer, "and, as an added bonus, you're not constantly tugging down on your mini skirt. I think it's more feminine, especially the pleated ones".

Source: Typef