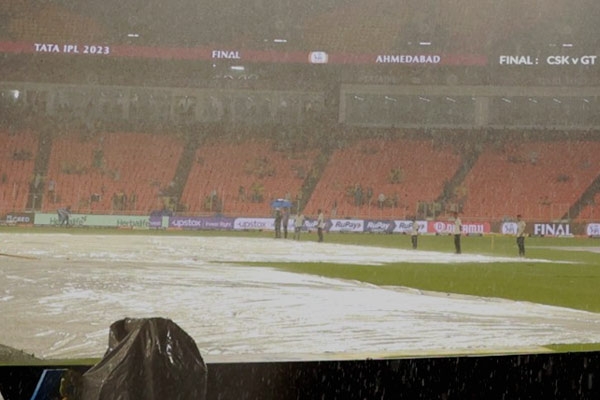 (Image source from: Twitter.com/IPL)
The IPL 2023 match between Chennai Super Kings (CSK) and Gujarat Titans (GT) has been postponed to the reserve day, that is for today (May 29) because of non-stop downpours at Narendra Modi Stadium, Ahmedabad. Physical tickets will be valid for today also and the stadium authorities asked to keep the tickets safe. The conditions are bad even today and let's hope the rain god shows grace on IPL fans to evidence the spectacular show between CSK and GT.
The match was suspended at about 11:00 PM on 28th May after the heavy rainfall. Till the last minute, Groundmen was checking with the curator and waiting for the instructions to clear the mats on the ground. From around 6:30 PM, the situation worsened, it began raining with huge thunderstorms and lightning.
The rain stopped at 08:30 PM and the groundmen started their work. The match was scheduled for 09:30 and the players started their warm-up. But it was bad again, dark clouds came up and the rain didn't stop till 11:00 PM, where IPL management has to postpone it to the reserve day with no other option left. If the rain continues today also, the trophy will be shared between the two teams. On Sunday, it was a day for Chennai. Huge supporters were around the stadium wearing yellow jerseys. But on Monday, there might be a different situation.