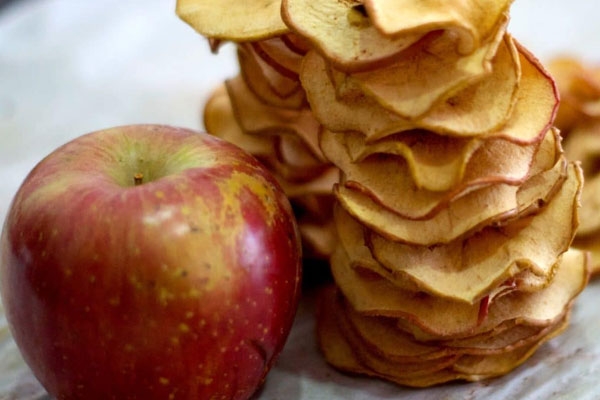 (Image source from: livingsweetmoments.com)
An apple a day, keeps a doctor away is the proverb that we have been hearing since our childhood and have grown with. Apple is said to be the food that can be taken at anytime of the day without any preference on which hour of the day it is being consumed. So, here comes a lip smacking recipe that gets you indulged with during the evenings.

The boring high tea recipes can now be spiced up with the spicy apple chips recipe which can be prepared in no time with just a few ingredients and can be deep fried as mentioned in the recipe or the health conscious folks can just bake them in an oven.

Baking them up might take up to two hours for the chips to get completely baked on both sides. Though the process is a time consuming process, the extra calories that are present in the oil can be restricted

Serving with tea or coffee goes well with it and can also be served during parties as a relishing dish with the guests asking for more.
Ingredients of Spicy Apple Chips:
Apples- 4
Sugar- 3 table spoons
Powdered cinnamon- 2 table spoons
Virgin olive oil - 1 cup
Black pepper - 1 tea spoon
Salt as required
Procedure for making Spicy Apple Chips:
Step 1:

Take a bowl and add sugar, black pepper and cinnamon as prescribed and add salt as per preference and requiremenst along with it. Mix them up properly.

Step 2:

Take the apples and slice them up making sure the slices that are being cut are thin

Step 3:

With no waste in time, place the slices in a plate and sprinkle the mixture that has been made in the step 1.

You got to be quick as the sliced apple starts turning brown if more time is consumed.

Step 4:

Leave the slices dipped in the mixture for few minutes as this allows the mixture to get absorbed into the apple

Step 5:

Meanwhile, take a non-stick frying pan and heat the oil over medium flame. Once, the oil gets heated, add the slices of apple and deep fry them until it turns golden brown in colour.

Step 6:

Take the slices out from the frying pan once they are done and give a dab with a paper towel so as the excess oil gets drained out.

Serve them with either coffee or tea and enjoy the evenings!

By Shrithika Kushangi