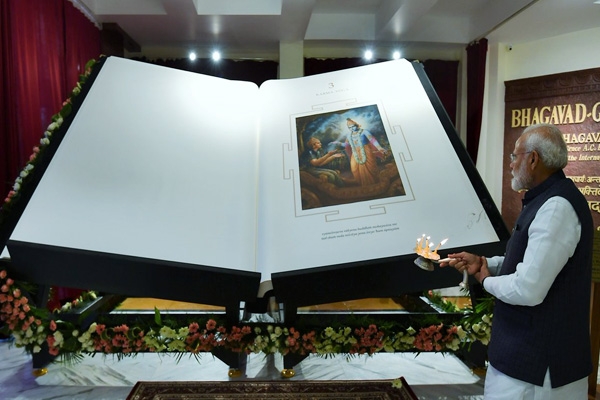 The Prime Minister Narendra Modi on Tuesday unveiled largest Bhagwad Gita in the world at the International Society for Krishna Consciousness (ISKCON) in New Delhi.
Attending the Gita Aradhana Mahotsav at iconic ISKCON Temple. He unveiled a unique Bhagwad Gita, prepared by ISKCON devotees. It measures over 2.8 meters and weighs over 800 kg.
Here are some images from the Gita Aradhana Mahotsav at Delhi's iconic ISKCON temple.

Unveiled a Bhagwad Gita that is 2.8 meters high and weighs over 800 kg.

The Gita's prolific teachings have touched the lives of millions of people across the world. pic.twitter.com/QENuLnF7C9

— Narendra Modi (@narendramodi) February 26, 2019
Addressing the gathering, the Prime Minister said that it is indeed a special occasion to unveil this magnificent Bhagwad Gita. He said this unique book will become a symbol of India's knowledge, to the world.
Prime Minister recalled that Lokmanya Tilak had written the "Gita Rahasya," while in jail, in which he explained in a simple way, Lord Krishna's message of Nishkam Karma. He also mentioned that Mahatma Gandhi wrote "Bhagwad Gita according to Gandhi." He added that a copy of this book was given by him to the former US President, Barack Obama.
He appreciated the efforts of Srila Bhaktivedanta Prabhupadaji, in raising global awareness about this epic.
The Prime Minister said that the Bhagwad Gita can always be our guide when we face a dilemma in life. Recalling a famous verse from the Gita, he said that the divine force is always with us, as we fight against the enemies of humanity. He said the Gita inspires one, to service of the people, and the nation.
He said that "Indian values and culture offer solutions tomany problems being faced by humanity. In this context, he also mentioned Yoga and Ayurveda."
-Sai Kumar