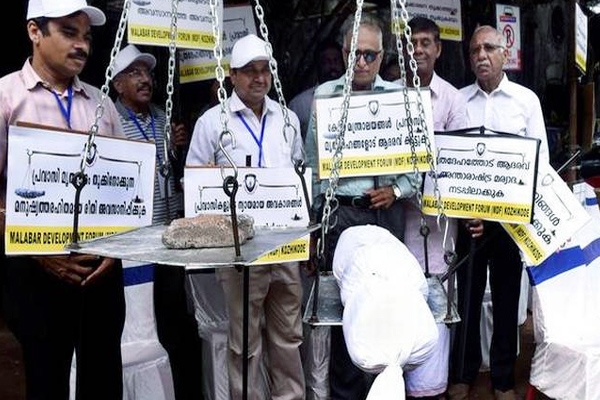 (Image source from: www.thehindu.com)
The members of the Malabar Development Forum (MDF) staged a protest in Kerala on Thursday against what they called the "inhuman and cruel practice" of charging transportation fee by airline companies on the bodies of Non-Resident Indian (NRI) workers dying in the Gulf countries.
The airlines weigh the bodies to decide the fees.
The demonstration was in support of the MDF's two-day fast in New Delhi to highlight the issue and urge the Centre to bear the cost of transporting dead bodies from the Gulf to Kerala. The Delhi fast was declared open by the senior Congress leader A.K. Antony.
In Kozhikode, to emphasise their point, the MDF activists symbolically weighed 'dead bodies'.
Speakers mentioned that each year Gulf workers took home thousands of crores of rupees in foreign exchange for the country. Nevertheless, the government was ignoring the inhuman treatment of the dead workers by the airlines.
-Sowmya Sangam