Indian Folk Art Exhibition, A Celebration of Indian Culture and Heritage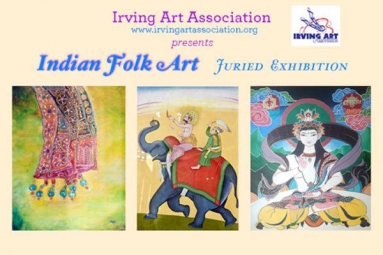 About this Event
Event Details
January 28 – February 23, 2018
Entry Deadline: January 10, 2018
Reception Sunday, February 11th, 2:00 – 4:00 pm
Jaycee Park Center for the Arts, 1975 Puritan, Irving TX 75061
For complete entry, information see the Prospectus and
REGISTER NOW (PayPal payment or check) http://irvingartassociation.org/category/call-for-entries/
Entry fees: $30 for IAA members & $35 for non-members — allows up to 3 entries per artist.
Kids (7 – 13 years): Entry fee of $10 for members & $15 (non-members) allows up to 3 entries per artist.
Irving Art Association invites artists to participate in the Indian Folk Art exhibition, a celebration of Indian culture and heritage. The open call exhibition is an opportunity to expose and feature mid-career and emerging artists from around the country whose submitted works relate to themes around Indian culture and heritage. Indian paintings have a very long tradition and history of Indian art. Madhubani, Miniature Paintings, Warli, Kalamkari, Mughal, Mysore, Tanjore, Patachitra, & all traditions and styles of Indian Paintings are welcome!
Open to IAA members and non-members living in USA. The accepting entries are original fine arts and crafts created by the applying artist(s) in the genres of Drawing, Painting, Sculpture, Photography, Pottery, Textiles, Glass, Jewelry, Leather, Metal, Wood, and Miscellaneous.
For questions, contact curator/juror Deepa Koshaley at This email address is being protected from spambots. You need JavaScript enabled to view it. or 972-639-6745
KEY DATES
Artist application and fee deadline January 10, 2018
Artist notification of acceptance January 12, 2018
Shipped paintings arrive January 22 – 25, 2018
Hand deliveries Saturday, January 27, 10:00 am – 2:00 pm
Juror talk & Reception Sunday, February 11, 3:00 pm
Exhibit dates January 28 – February 23, 2018
Reception & Awards Sunday, February 11, 2:00 pm – 4:00 pm
Pick up Saturday, February 24, 10:00 am – 2:00 pm
Traveling Exhibit to the Irving Arts Center 
(optional participation) – dates TBA
AWARDS:
$1,000 in prizes will be awarded.
EVENT TITLE & ADDRESS
STARTS FROM
Radha Krishna Temple of Dallas,
1450 North Watters Road,
Allen, TX 75013