The Java Online Training in USA with Live Project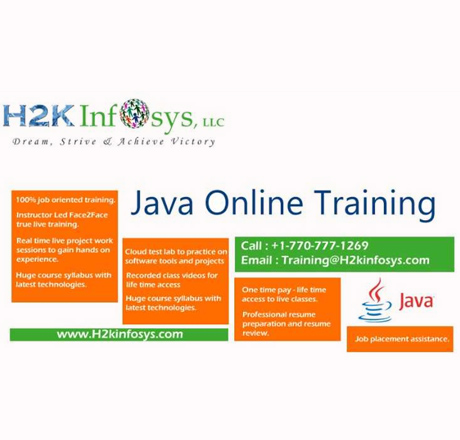 Important Safety Tips :
View properties in person, and always take someone with you. Never send or wire money to landlords. Classifieds does not offer any transaction or payment services. Stay safe - read our safety tips.
Description
H2KInfosys the leading provider of IT Training in Alpharetta, GA, USA offers Java/J2EE Training online.
We provide job oriented training, and cover both basic and advanced level concepts. Our extensive 80+ hours of training along with real-time projects and domain knowledge prepares you for a successful role as a Java Developer. Our Java course includes access to real-time environment to work on various software tools to gain hand-on experience.
All enrolled students are provided with course material and video recordings. We offer life-time access to the Java/J2EE course, unlimited mock interview sessions, and resume preparation sessions.
What is the role of a Java Developer?
A Java Developer is involved in the programming and development of business applications and software as well as its architecture. Java Developer develops and executes programs using Java and its associated frameworks.
Why consider a career in Java?
Fresh Graduates/IT newbie scan start a career in IT as a Java Developer
>Career Change or switch from current technology to be proficient in Java
>High market demand for Java professionals
>Pay scale is excellent for Java professionals
>Rewarding and Successful career in Software Development with job security
Key highlights:
•Online Java training in USA- Virtual class room, live participant, teacher led sessions
•Job oriented, all-inclusive curriculum and practice projects
•Resume and Mock interview guidance
•One Time Pay - Life Time Access
•100% job placement support post-course completion
•Flexible timings
Enroll Today in our Java Training!
For more details
Email: training@h2kinfosys.com
Call us:
USA: +1 770-777-1269